You may have come across or heard of steamers but probably wondering how they can steam bed bugs to death. The truth is, steamers, both standard hand-held and heavy-duty, produce hot steam that kills bed bugs almost instantly. The little bloodsuckers cannot survive under high temperatures.
Following is how steam destroys bed bugs, a review of best steamers(Amazon), a guide on types (dry & hot vapor) and how to use them on various surfaces/items(clothing and bedding), rental options if you cannot afford one plus home alternatives such as steam irons.
Steaming Bed Bugs to Death
When used properly, steamers can destroy or kill bed bugs at almost all stages. They work by using steam at high pressure and temperature which the bed bugs cannot stand. High temperatures of 120°F for 15-20 minutes will make the little insects lifeless.
To destroy the eggs however, you will need an exposure time of close to 90 minutes if you are using the same temperature. What it means therefore is that the effectiveness of this method will depend on time of exposure and amount of temperature.
According to a 2018 study by the Society of Chemical Industry, when used correctly,both consumer-grade and professional-grade steamers can exterminate all life stages of bed bugs.

The experiment proved 100% , 89% and 100% effective for bed bugs on mattresses, hiding behind fabric materials and in cracks respectively.However, the study noted that the steamers were not effective for bed bugs hiding under leather.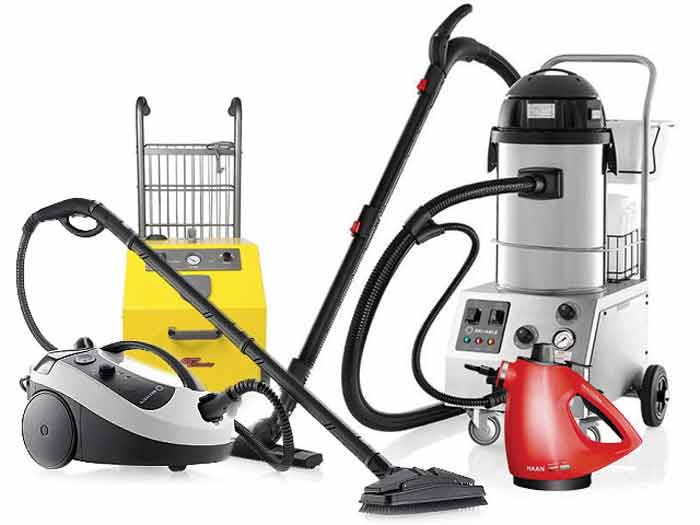 Benefits of using steamer to eradicate bed bugs include;
It is less expensive compared to use than professional bed bug exterminators.
Chemical-free thus a safe environment.
It destroys bed bugs at all stages
Steam is able to penetrate and kill the bugs in hidden areas such as cracks and crevices, through the materials of mattresses and furniture. It will be quite difficult to target the insects using other methods.
Best Steamers for Bed Bugs Review
Following are some of the top steam cleaner machines that can be used to eliminate bed bugs and other harmful pests.
1. Mcculloch Steam Cleaner Systems
Steamers by McCulloch Motors Corporation are among the top popular on the market. On Amazon, Mccculloch steamers are some the best and most reviewed.
They come in various sized and with a variety of features. There are heavy duty, light/portable and handled. These machines come with all the features necessary to get rid of the bed bugs in place.
They also feature deep cleansing and sanitizing abilities that will leave your house without any traces of bugs. Other cool features:
It has excellent performance: they produce powerful steam that is able to get into the areas that cannot easily be reached by other methods like the mattresses.
They come with awesome attachments & features including a water tank, lockable steam trigger, very long power cord that provides you with an amazing experience while using them.
The portable and hand-held versions are convenient and can be carried from one place to another.
2. Vapamore MR-100 & MR-75 Steamers
According to most users, vapamore steamers are some of the greatest. In fact, some reviewers say that they're the best overall. They have cool features that can help destroy bed bugs germs and other tiny insects within a short time and for good.
These steamers come in both heavy duty(MR-100) and light weight/ portable hand-held(MR-75) with amazing power and a temperature of over 200 degrees.
They use dry -vapor technology which works very well with bed bugs. The heavy duty one has a large tank that ensures continued treat without interruptions. They also come with adjustable nozzles which makes it easier to access even the most hidden places.
This brand is however costly compared to other steamers. The other con of these steamers is that they only kill but do not pick the dead bugs. If you keenly look into the warranty, it is limited in some ways. It takes a comparatively longer time to cool once completely heated.
Check price and reviews
Vapamore MR-100 Primo Steam Cleaning System
Vapamore MR-75 Amico Hand Held Steam Cleaner
3. Comforday Multi-Purpose Hand-held Pressurized Steamer
As the name says, this is the most-purpose steamer in this list. Its versatility of use and a fair price are the features that make it great. It is portable and can be carried and used anywhere easily. Like other steamers it comes with tools and accessories that help you to do more than just killing bed bugs.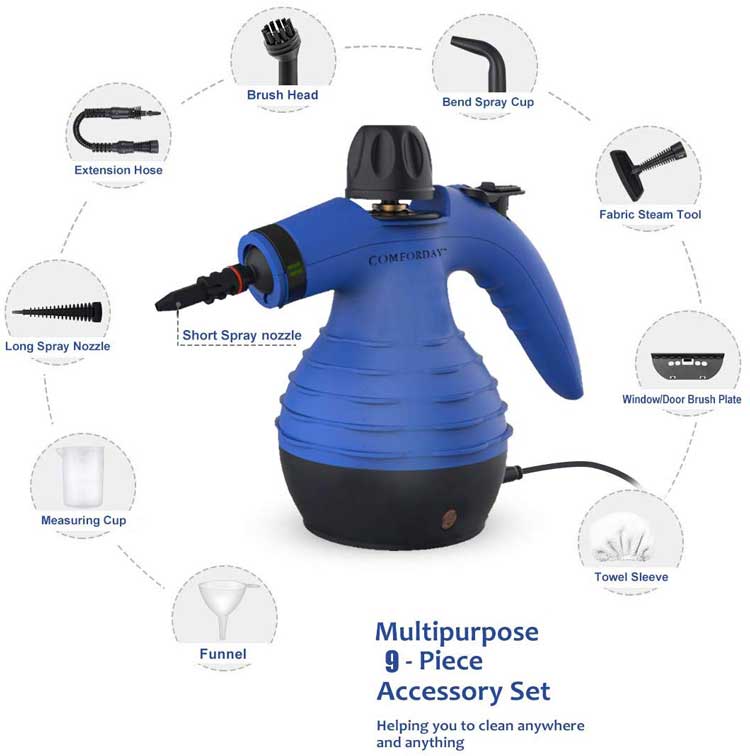 It is a powerful steamer that rocks 1050W of Power and it emits pressurized powerful hot steam (250-270F) for up to 15-20 minutes which of course is great for bed bug treatment and other insect infestation.
Some of the reasons customers prefer this steamer include:
Great convenience for anyone: this is because you can use the steamer for any other jobs at home. It is also easy to use because it does not require you to acquire any skills to use.
Multiple use on multiple surfaces: it can steam a number of surfaces be it the pillows and their cases to even mattresses. You can also use this steamer to remove the bed bugs from wooden surfaces and other surfaces.
Come with a couple of accessories: a towel sleeve, a very long spray cup, measuring cup and brush plate.
It is not pricey. Provides excellent service
However, compared with other steamers, it comes with a smaller water chamber which means that continuous use is not possible
Shop Comforday Steamer: Check Price and Reviews on Amazon
4. Dupray Multipurpose Heavy-Duty Steam Cleaner
This is one of the best rated steam cleaning unit on Amazon.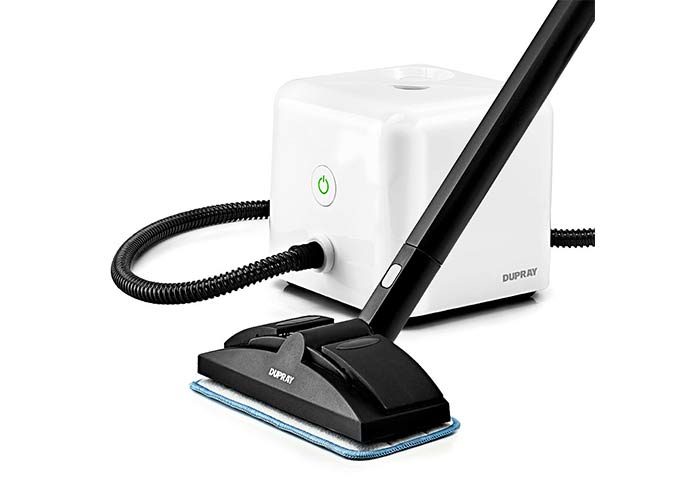 Its features include;
Quick hit up(7min)
Works on all surfaces
Large tank(54oz) up to 50 min of cleaning
Uses regular water
It is lightweight
Uses any ordinary towel or cloth, no need for expensive special pads!
Low-moisture superheated steam up to 275°F/135°C.
Steam lock for continuous cleaning action
Built-in funnel to reduce messes
Smooth rolling wheels
Extra-long cord of 16ft with integrated wrap.
Basing on customer reviews and ratings dupray is good because;
It is easy to assemble, use and clean
It is versatile
It is built strong and durable.
Negative reviews are very few and they may result from improper use.
Some users claim it does not heat to the claimed temperatures and it spits water instead of steam
5. AutoRight Steam Machine
This is the most popular steamer for killing bed bugs in vehicles: leather seats, cloth seats, floor mats, dashboards, cup holders, arm rests, consoles etc.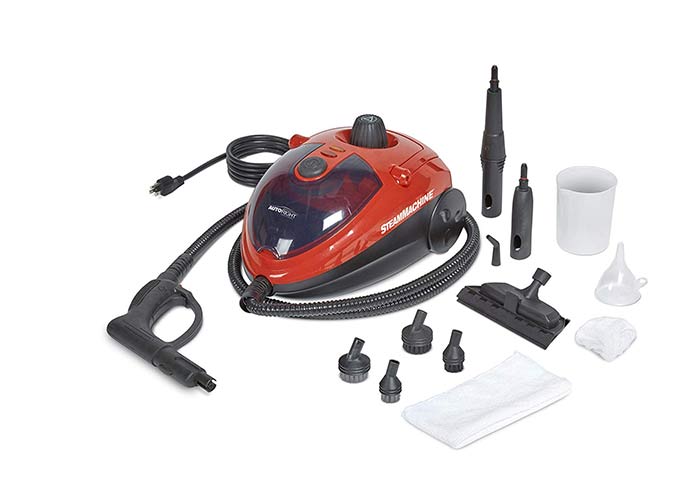 With a 45-minute continued cleaning, it generates 275°F pressurized steam that most definitely destroys bed bugs and other harmful organisms.
Pros of this steamer include
Easy to use
Provide value for money
Most users agree it does good deep cleaning
It is portable
Durable but some accessories that come with don't last
Brushes accompanying the steam are not heat resistant. Most users have complained that they melt so soon. Users also not that it may lead to burns if not properly used
Check Latest AutoRight Price and more Customer Reviews
6. PurSteam Handheld Pressurized Steam Cleaner
Going by numbers, it is one of the most reviewed steam cleaners by customers. On Amazon, it has garnered over 2000 reviews. It is a both-indoor-and-outdoor lightweight portable and multipurpose steamer.
It comes with a lengthy cord that makes its use simpler. According to the manufacturer, Pursteam, the device can offer steam temperature up to 289.4 F.
Generally, most of the users who have used this steamer definitely recommend it. However, just like other hand-held steamers, it has a smaller tank meaning that you will have to refill it again and again.
If this handheld version does not satisfy you especially if your are getting rid of bed bugs in garments, Pursteam has a heavy-duty version (PurSteam Elite Garment) that is specifically made for Fabric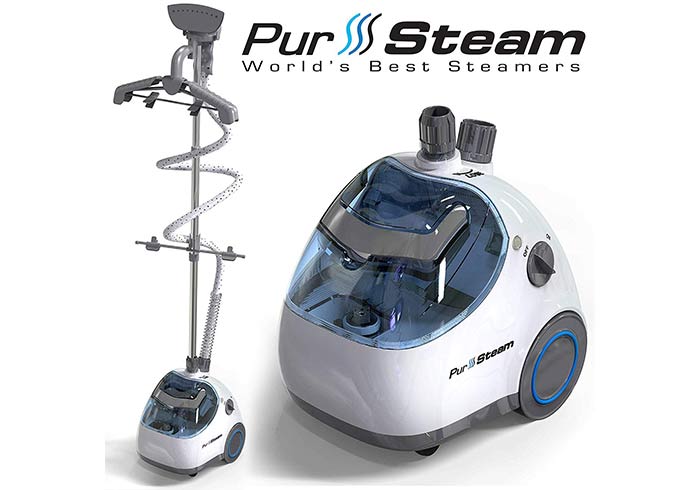 7. Conair Steamers for Killing Bed Bugs Fabric
Conair is one of the most popular manufacturers when it comes to fabric steamers.It is an established brand that has made a good name in the steamer industry.
Conair steamers come in a variety of designs and sizes. There are both lightweight-portable hand held and heavy duties.
The hand-held versions use Extreme Steam Dual Heat Technology which creates concentrated 15-minute steam of up to 30% hotter that penetrates to areas where bed bugs hide destroying them.
The heavy-duty versions are a more powerful and can steam continuously for up to 40 minutes. Basing on reviews from around online store, buyer and users have shared plenty of positve feedback which basically means that conair steamers do their job pretty well.
8. Pure Enrichment PureClean XL Rolling Steam Cleaner.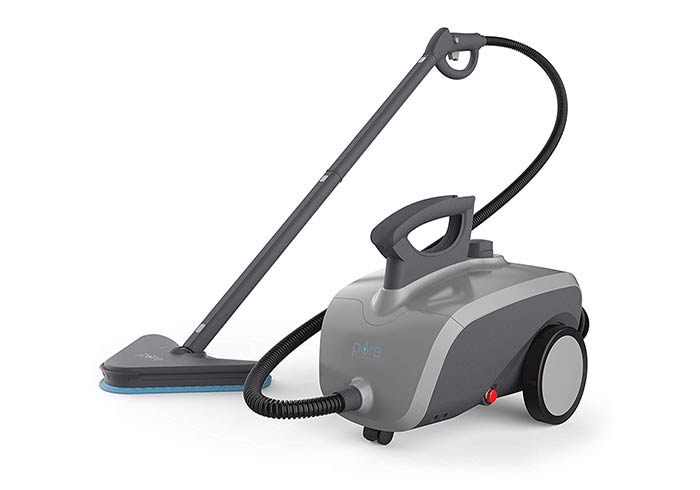 This is a heavy-duty that comes with most of the tools you will need to clean your home both inside and outside. Its 1. 5-liter water boiler produces up to 45 minutes of continuous hot pressurized steam that can be used on a variety of surfaces.
It also comes nice features like a 16-foot cord, rolling wheels, a huge number of attachments plus 8-year warranty.
On the down side, it is quite pricey and some users have noted that it lacks a signal that will let you know that the machine is ready for use.
9. Steamfast SF-370WH Multi-Purpose Steam Cleaner
This is a 1500-watt cleaner uses pressurized steam for household cleaning. It has a large 45-ounce water tank provides up to 45 minutes of continuous steam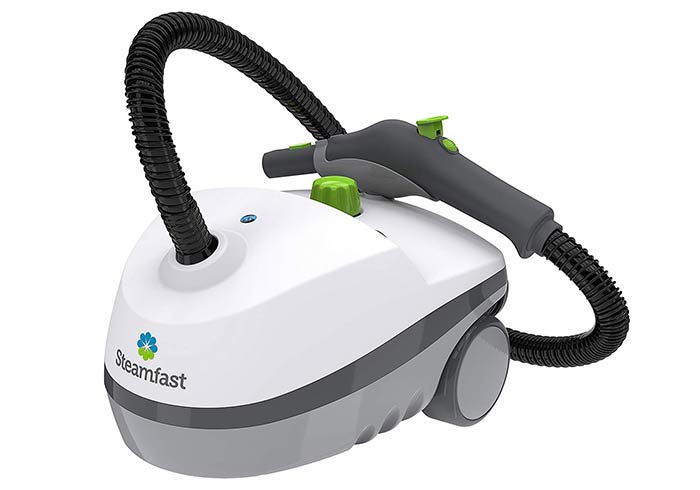 It comes with 15 versatile accessories including a steam mop attachment for sealed flooring surfaces.
It also features a steam-on-demand trigger with continuous steam locking switch.
Over 500 customer reviews with 4 out 5 Amazon rating says it all. It is a steamer you can trust.
10. Wagner Spraytech Multi-Purpose Home Steamers
These steamers come in 3 models. That first one Wagner Spraytech C900053.M. It comes a power 1500 wattwith a 40-ounce boiler tank that provides up to 45 minutes of continuous steam cleaning.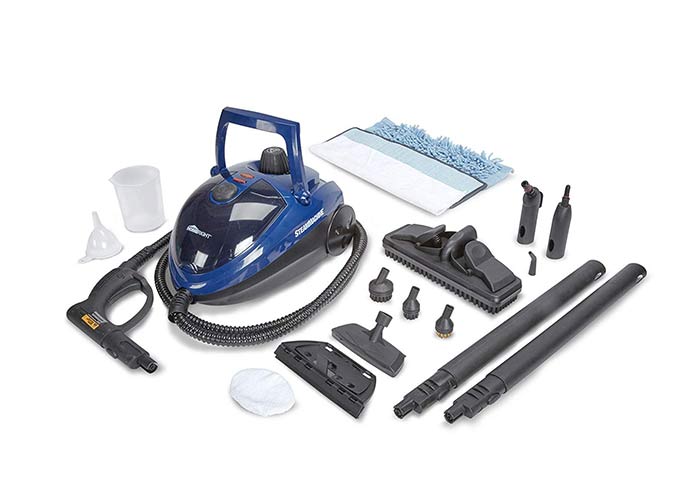 The manufacture is the same as that of AutoRight Steam cleaner. They share a lot of features with AutoRight
The second model is Wagner Spraytech Wagner 0282014 915 On-demand Steam Cleaner. It is a versatile, multipurpose steamer said to  reach up to 212°F (100°C) to clean your household surfaces. It can hold up to 48 oz. of water to run for up to 45 continuous minutes.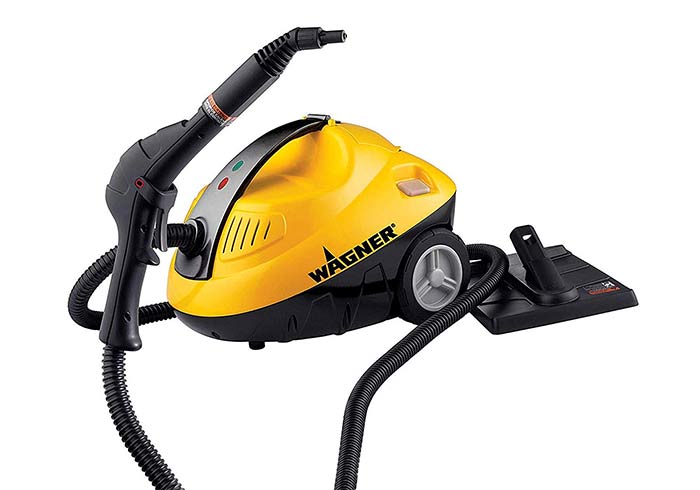 The third Model is called Wagner Spraytech C900134.M SteamMachine Elite and it is best for flat surfaces like mattresses, carpets etc. This heavy-duty cleaner comes with quite a good number (20) accessories and the most interesting feature is that it has an inbuilt compartment you can some accessories.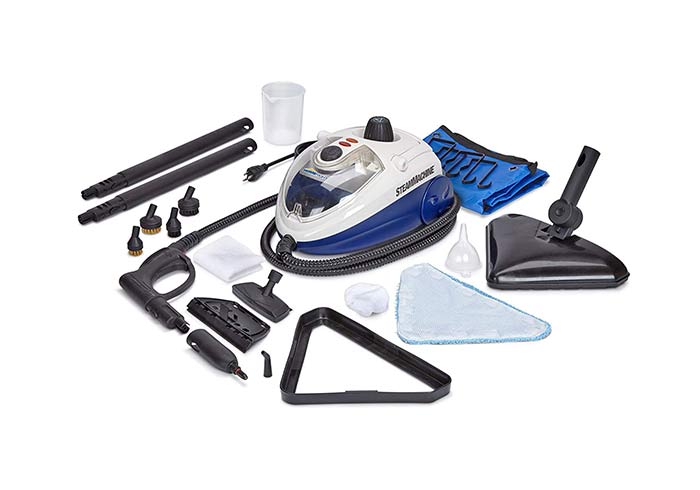 11. Rowenta Powerful Handheld Steamer
According to the manufacturer, Rowenta steamer kills 99.9% of germs, bed bugs and dust mites. It comes with an ergonomic design that makes your whole steaming experience super awesome.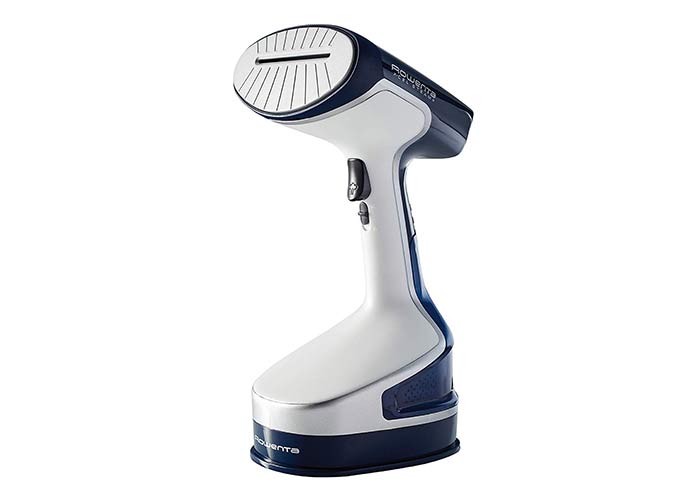 It is best for steaming bed bugs in any  type of garment or fabric. Its 6.76 oz tank  gives you uo to 10 minutes of steaming.
Over 60% percent of buyer have given this machine positive reviews. Most user agree that it is easy to use, portable and durable.
Few users say that there is inconsistency steaming, a lot of water spray while using this steamer
12. Midas Multi-Purpose Handheld Pressurized Steam Cleaner
Midas is a 1050W-Power handheld steam cleaner with tank that can holp up to 350ML of water. It emits pressurized powerful hot steam (250-270F) for up to 20 minutes.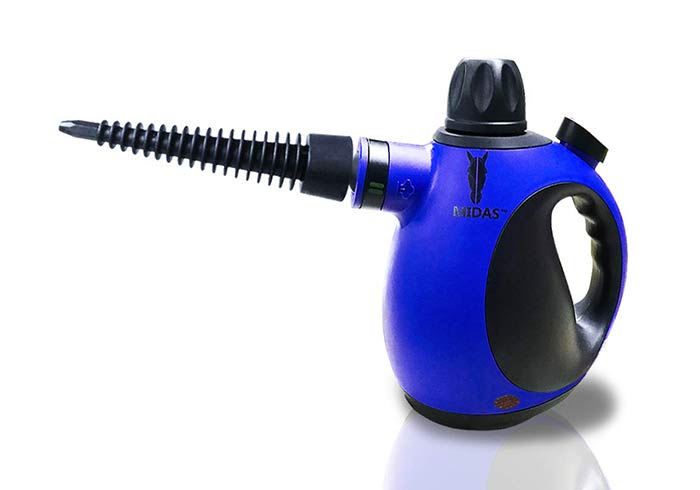 It is a multipurpose steam unit that can be used on various surfaces including ceramic,  hard wood floors, floor, living room,  tiles, shower curtains, cat litter boxes, car seats & rims, grill, BBQ, kids toy, mattresses, linen, duvet cover, fabric & Sofa Material, pants, suits, clothing & fabrics.
It has been largely like other steam cleaner machines but few reviews indicate that it is deserves a mention in this list. One feature that most user tend to like is its safety
However, of all the steamers in this list, Midas seems to have the highest percentage of negative feedback from users.
13. Other Good Steamer include;
MASTEAM U, Portable Travel Garment, Mini Steamer
This is the best steam cleaner for the folks that are always travelling.
BISSELL 39N7A/39N71 Steam Shot Deluxe Hard-Surface Cleaner, Light Green
BEAUTURAL 1200-Watt Steamer
Secura Instant-Steam Handheld Garment and Fabric Steamer
Micho Handheld Steam Cleaner
Homegear Portable Steam Cleaner
iSteam Steamer for Clothes [Luxury Edition] Powerful Dry Steam.
Professional Bed Bug Steamers for Rental
As mentioned earlier, both a professional-grade and a consumer-grade will provide good results but there are circumstances that will make you want to rent. At the end of the day, renting is just an option of acquiring
Why rent a steamer?
The following are some of the reasons renting a steamer is the better option:
There are some bed bug steamers that are very expensive it would rather be economical to rent rather than buy. These kinds are better and more economical when used for the commercial purposes. For example pro hot bed bug steamers may cost over $800
You can rent a steamer if you suspect the infestation is not deeply rooted. For instance if you are not sure and you are just suspecting bed bugs in the house.
It is also appropriate to rent the steamer if you only carry out the eradication about once a year or less often.
It may also make to hire if you are a housing cooperative, a social assistance group etc.
Which ones are for renting?
There are a number of packages of the bed bug steamers that you could rent. Here are some of them:
One heater package: it has the Eco force heater, two fans, a temperature gun and the cords. For rental, will pay as much as $ 230 a day. This is an equipment that is suited for the eradication of bed bugs in hotels and motels.
Two heater package: it has two Eco force heaters, four fans, a temperature gun and cords. The rate for its rental is $ 399 per day. This is the suitable heater for the eradication of bed bugs in hotels, apartments, motels and dorms. It is preferred for large rooms.[4]
Where to rent?
There are various suppliers of the bed bug steamers. They vary from one country to another. Further, there are other suppliers whom you can place an order and get a delivery within a short period of time. For instance, BedbugSupply.com specializes in that. There are other suppliers that you could keep in touch with online.
Steamer Buying/Renting Guide
Types
Dry vapor steamer for bed bugs
A dry vapor steamer looks like a vacuum device that has different nozzles and scrappers. From the name, it is known to blow out steam that is very hot through the nozzles. There is very little moisture that is contained in the steam.
The use of this steamer makes it suitable for the cleaning of the floors and furniture without making them wet. This therefore means that there are lesser chances of mold growth as compared to other steamers.[1]
It can be used safely in the rooms inhabited by children, on the bunks of beds as well as the changing tables. The versatility of this technique has made many professional bed bug exterminators to use it especially for the cleaning of the carpets and the bedding. This steamer assures 100% eradication of bed bugs from your home.[2]
Compared to other steamers, it works very fast and kills all the bed bugs that are exposed to it. This is therefore a worth investment for your home.
Hot steamer to kill bed bugs
For you to have complete death for the bed bugs, the steam should be as hot as 212-230°F. This is temperature hot enough to cause burn to the skin.
When using it, always ensure that you point the steam away from your eyes as you eradicate the bed bugs. This kind of steam can badly damage fabric unlike the dry steam that can effectively be used on fabrics.
Ensure you test the steam on unseen surfaces to avoid any burn on fabrics if any. This steamer initially releases some water especially when you have not used it for a while.
When using this steamer, the nozzle should never be the pin point steam nozzle. This is because these kinds of nozzles can blow bed bugs away giving probability for survival.
Unlike the dry steamer, this kind of steamer should never be used in the presence of children because of its dangerous effects. On the other hand, this kind of steamer is also a bit expensive when compared to the others.[3]
What to look for when choosing Steamers that kill bed bugs
How do you go about choosing that steamer that kills bed bugs?
For you to completely get rid of bed bugs, you ought to therefore be careful during selection. There are a number of factors you should always put into consideration before buying a bed bug steamer. The steamer should:
Be flexible and versatile: the steamer you buy should be useful anywhere and clean everything. It should be able to release steam that gets into the cracks and crevices to kill the bed bugs that hide there.
Be cost effective: always look for a steamer that assures you the value for your money. There are shops and retailers who offer their merchandise at great prices. You can even acquire them online from retailers like the Amazon and Walmart. A good steamer would cost about $300, where you will get service commensurate to your investment.
Easy to use: the process of getting rid of bed bugs from your home could be a lengthy and tiresome process. It could take days, weeks or even months to show appreciable results. Because steam has the power to get rid of bed bugs at all stages, the last thing you would want to do is spend time figuring out how it works. A good steamer should have an easy and straight forward procedure of use.
Be able to produce steam that is hot enough: a good steamer should produce steam that is about 200 degrees Fahrenheit. This is temperature hot enough to pass over the bed bugs and completely kill them together with their eggs. Lower temperatures kill some bed bugs and leave others or even their eggs. Use a thermometer to check whether the steamer can produce the required temperature.
Check the amount of steam it produces: for you to reduce the risk of the development of mold and mildew, you would want to consider a dry steamer that produces about 5% water by volume. This water will penetrate and kill the bugs.
Pressure adjustment: an effective bed bug steamer should have a pressure adjustment nozzle. This enables you to produce an adequate pressure that is effective in your case to fit the spaces that you are handling.
The steamer should have a wide enough nozzle. The nozzle should be able to fit in the intended areas. For instance, a narrow nozzle would effectively fit in tight spaces. This would be important for cleaning small areas. The disadvantage is that the nozzle will be able to clean many areas but have passes overs in the process because of the missed points during cleaning.
When choosing the steamer, ensure the nozzle is about 6 inches wide. This means that the bed bugs would be killed before they even before they move away. The wider nozzle traps them in the steam zones.
High capacity: this is in most cases a convenience feature rather than a necessity in the process of eradication. However, it makes the process of dealing with bed bugs more effective. If it has a large boiler that can hold a large amount of water, then you are likely to spend less time taking it back to the sink for fill up.
How to Steam
 Here is a great video from bedbugtv demonstrating how to carry out the procedure properly
Tips to use Steamers effectively Safely Tips
Below are tips, ideas and precautions to use steaming method effectively with minimal dangers:
Before use, carefully read and understand the steamer user manual/instructions and follow the directions.
If you're intending to use steam on fabrics ensure you test on an unseen area as some fabrics may be destroyed. For microfiber fabrics, remember to always steam with the direction of the microfiber.
Be cautious when refilling the machine and using the steam wand since the steam is under pressure.
Avoid pin-point steam nozzles; ensure you use a nozzle to distribute the steam at lower pressures such as a floor or upholstery attachment. Pin point nozzles can blow the bed bugs away alive.
To avoid burns from heat which can be as high as 212-230°F always direct the steam away from yourself and ensure you've no children around.
It normal that steamers will once in a while spit out hot water when you start up, or after the steamer has not applied steam for a while. Pointing the wand at a towel when you first start will allow you to capture this water.
Can you Kill Bed Bugs with Steam Iron?
Steam iron may kill but it is not an effective method. It can kill bedbugs that are exposed on the surface.
It is rare to find these creatures exposed on the surface: they are usually hiding deep into fabric, crevices and cracks where the steam from the iron cannot reach.
Can you use Garments/clothes steamer for bed bugs?
The answer is yes. Some of the above best steamers are in fact fabric steam cleaners. What if you want the non-fabric steam cleaner for your clothes? As mentioned earlier, the dry steamers are always the best for clothes.
This is because they are a little friendly to fabric and linen. When using the wet steamers, a lot of care should be taken because they badly destroy fabric and any linen.
Further Reading
Sources
[1] http://killallbedbugs.com/dry-steamer
[2] http://www.steamericas.com/steam-applications/hospitality/bed-bugs/
[3] https://www.bedbugs.umn.edu/bed-bug-control-in-residences/steamers
[4] http://www.bedbugequipmentrentals.com/